By - Kris Fletcher
The 1st-round of this years NFL draft certainly had it's share of memorable moments.
Considering it was only a draft, I'd say it was a pretty good showing. From Roger Goodell getting booed relentlessly every time he approached the podium, to the New York crowd chanting, "New England sucks" when it was the Patriots turn to pick, all in all I was pretty entertained.
Here's a look at what I thought were some of the best, worst and overall surprising moves from round 1. Keep in mind that while many of the guys I predicted to go in the 1st-round of my mock draft were selected, only one, A.J. Green to the Bengals, was actually picked where I had him going, so I'm not exactly a draft expert. In my defense though, I don't pretend to be either.
Best Picks
Von Miller: Denver Broncos, 2nd overall- The Broncos needed help on defense, and that's exactly what they got when they picked Miller. This guys a beast, so expect him to be an immediate impact for them at rushing the quarterback and stopping the run.
Photo by: Getty Images
Marcell Dareus: Buffalo Bills, 3rd overall- Like the Broncos, the Bills did a good job of filling a need on the defensive side of the ball with their pick. Dareus should add some instant stability to their defensive line.
Worst Picks
Cam Newton: Carolina Panthers, 1st overall- Mark my words, this guy will be the second coming of JaMarcus Russell. I didn't hear a single instance where a team had Newton in their top-10 available players in this draft, so how the Panthers can justify picking him #1 overall is beyond me.
Jake Locker: Tennessee Titans, 8th overall- He was average at best with the Huskies, so I honestly have no idea what the Titans see in him. When you're a quarterback, and your main issue is accuracy, that's a problem. Several guys that are better than Locker would have been available for the them to get in the 2nd or 3rd-round, so he was entirely too much of a reach with the 8th overall pick.
Photo by: John Lok
Biggest Surprises
Julio Jones: Atlanta Falcons, 6th overall- This was the first big surprise of the evening to me. I know Atlanta wanted to get a playmaker to go with Roddy White, but they gave up a ton to move up and get Jones, and I'm not really convinced he's going to excel at the NFL level. They better hope he does, or they'll be hearing about this one for years to come.
Christian Ponder: Minnesota Vikings, 12th overall. I get that they need a quarterback, but taking Ponder with the 12th-pick was pretty shocking. Especially when you factor in that he's basically no better or worse than Ryan Mallett, Andy Dalton or Colin Kaepernick, all of which are still available. Judging by this pick, apparently even when Brett Favre isn't around he still somehow manages to screw things up.
Mark Ingram: New Orleans Saints, 28th overall- I was surprised Ingram fell this far, and when he was still on the board at 28th, the Saints traded up with the Patriots to get him. I think he's a pretty good value at this spot, and he'll probably fit in better than Reggie Bush ever has. I guess Bush doesn't think the two are a good fit together, seeing as how after Ingram was selected he tweeted, "It's been fun New Orleans."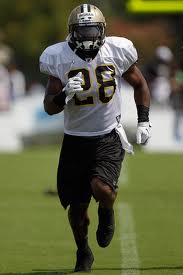 Photo by: Kevin Cox
So, that's pretty much what I thought were the highlights of the opening round. I'm sure there will be plenty more picks to like, dislike and second-guess tomorrow. I'm actually looking forward to it.
In closing, I would like to dedicate this post to one of my oldest friends, Britney Ann Lee, who was among the hundreds killed in the tornadoes that struck Alabama on Wednesday. My thoughts go out to all those who lost loved ones during this ill-fated week.
I'm not really good at this sort of thing, so I'll just say this: For being nothing short of an amazing person and great friend, my eternal thanks. I'll never forget you. Sleep well.