By - Kris Fletcher
Normally a Lakers loss in the playoffs shouldn't be much cause for concern, but losing Game 1 to a seven-seed? That's what happened on Sunday, when the New Orleans Hornets defeated Los Angeles 109-100.
Chris Paul tore them apart with 33 points, 14 assists, 7 rebounds and 4 steals.
One has to wonder if this puts the Lakers three-peat chances, and Kobe Bryant's days of being one of the game's elite players officially on the clock. Could this playoff series really be Kobe's last stand?
Photo by: Getty Images
Bryant's only 32, but you have to factor in that he's been in the NBA since the age of 18. That's an awful lot of wear and tear to go through over a nearly fifteen year span.
This guy has done it all. He's a five-time NBA Champion, a two-time NBA Finals MVP, a thirteen-time All-Star and a four-time All-Star Game MVP. He's even won a regular season MVP and an Olympic gold medal.
At some point though, Father Time is going to catch up with him. All those seasons of being the focal point of the offense and the go-to guy in the closing minutes may very well finally come to a head this postseason.
You would think Bryant should have plenty of motivation to try and elevate his game for one more title run. He's trying to match Michael Jordan with six rings, and his Lakers are trying to match Jordan's Bulls with a second three-peat.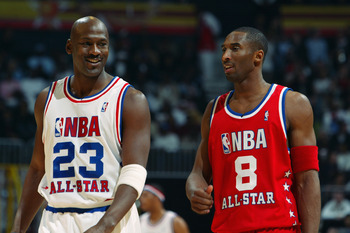 Photo by: Jamie Squire
Obviously, losing Game 1 doesn't mean the series is over, but the loss should have definitely gotten the Lakers attention. The Hornets, and Chris Paul in particular, have no doubt come to fight.
Bryant is one of the most clutch players in NBA history, so I don't see New Orleans being able to knock Los Angeles out in a seven-game series. But, if he doesn't put the Lakers on his back yet again and carry them like he has time after time in the past, it may be a first round exit for the two-time defending champions, and the beginning of the end for Kobe.