By - Kris Fletcher
Dwight Howard was presented his Defensive Player of the Year Award, and then he went out and led the Magic to a series-tying win over the Atlanta Hawks in Game 2 by a final score of 88-82.
Photo by: Getty Images
Fresh off the heels of his 46 point, 19 rebound performance in Game 1, Howard was once again unstoppable for Orlando, scoring 33 points and grabbing another 19 boards. This time, they didn't let his performance go to waste like they did the previous game.
The Magic played much better defensively, as they forced the Hawks into more mistakes and did a much better job of getting out in transition.
Jamal Crawford had 25 points for Atlanta in the loss.
Other playoff action from Tuesday:
In Boston, Carmelo Anthony scored 42 points for the Knicks to match his postseason career high. He shot 14 of 30 from the field, 4 of 8 from three-point range and 10 of 11 from the free-throw line. He also pulled down 17 rebounds, dished out 6 assists and added 2 blocks for good measure. Too bad it wasn't enough.
The Celtics defeated New York by a final of 96-93, taking a 2-0 lead in the series.
Kevin Garnett had a big bucket in the closing seconds, and a steal with 4 seconds remaining to seal the deal for Boston.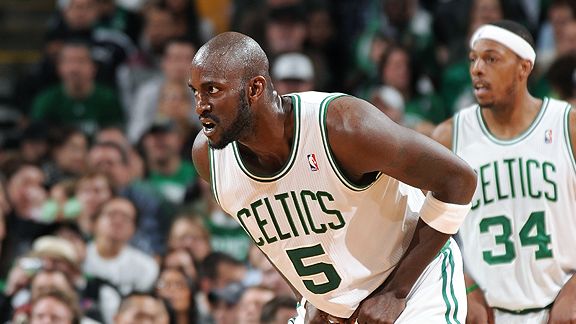 Photo by: Getty Images
In Dallas, Dirk Nowitzki had 33 points, and Peja Stojakovic tied his career playoff best with 5 three-pointers, as the Mavericks defeated the Portland Trail Blazers 101-89 to take a 2-0 lead in the series.
Jason Kidd followed up his 24 point performance in Game 1 with another solid effort, as he added 18 points for Dallas.
LaMarcus Aldridge scored 24 points and grabbed 10 rebounds for the Trail Blazers, but he didn't get enough help from the bench. They contributed only 11 points, ZERO coming in the second half.