By - Kris Fletcher
I'm really enjoying this whole "Year of the Quarterback" series that ESPN is doing. Last night, I sat down and watched "The Brady 6" episode. Quite frankly, I thought it was a wonderful documentary.
Of course, anyone that knows me, knows my opinion on anything Tom Brady is basically biased to begin with. I think he's the best quarterback of all-time. I mean, my three year old son's name is BRADY. That should tell you exactly where I stand on the guy.
Photo by: Getty Images
But even if you're a Brady-hater, and I know there's plenty of you out there, the episode is still well worth watching. While some of it covers his college and pro highlights, a lot of it looks into the six quarterbacks taken BEFORE him in the 2000 NFL draft. It goes into what they did, or in most cases, DIDN'T DO in the league, and what they're doing now.
I would definitely recommend checking it out if you get a chance. Watching it has inspired me to do my own little segment on "The Brady 6." Here's a look at the six guys that will be forever linked to greatness. Albeit, someone else's, but still...
Chad Pennington:
The New York Jets selected Pennington in the 1st round, as the 18th overall pick. He was the first quarterback taken that year, 181 spots ahead of Brady. Pennington became the Jets starter in 2002, and led them to the division title that year. Since then however, his career has basically been one big injury after another. At one point, he had two shoulder surgeries within an eight month span. In 2010, he underwent a fourth shoulder surgery. The two-time Comeback Player of the Year hoped to return for another season in 2011, but he tore his ACL playing a pickup basketball game in March, so his career is probably over. I actually like this guy. It's just unfortunate that he's pretty much made of glass. It prevented him from ever reaching his full potential.
Photo by: Getty Images
Giovanni Carmazzi:
Tom Brady actually went to high school within a stones throw of Candlestick Park. He grew up a 49er fan. San Francisco had a chance to take him, but instead, they used pick #65 in the 3rd round on THE BIGGEST BUM of this group, and possibly of that entire draft. I'm sure they STILL regret taking him. Carmazzi never appeared in a regular season game, and was released after two seasons. He currently lives two hours north of San Francisco, and describes himself as a "yoga exercising farmer." He doesn't even own a television. He does own five goats though, unless he had to kill one recently for food. Basically, he's a hermit. This guy was so useless that it took me 30 minutes just to find a photo of him. Nice selection fellas.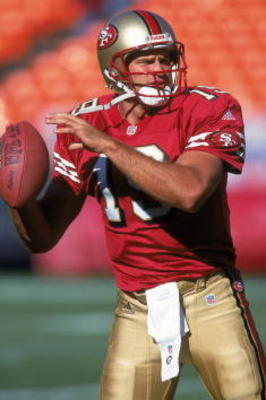 Photo from: bleacherreport.com
Chris Redman:
The Baltimore Ravens selected Redman with pick #75 in the 3rd round. As a third-stringer, he actually won a Super Bowl ring in his rookie season. The Ravens had high expectations for him, but it never panned out. He was released following the 2003 season. Redman was actually out of the league for several years selling insurance before the Falcons signed him in 2007. He's hoping to return as Matt Ryan's back-up for his 5th season with the team in 2011.
Photo by: Roberto Borea
Tee Martin:
The Pittsburgh Steelers selected Martin in the 5th round with pick #163. He appeared in only three NFL games, and completed just six passes. On the bright side, he did lead the Vols to a championship, which is something "the great" Peyton Manning never did. He is currently the wide receivers coach for the Kentucky Wildcats.
Photo by: Lake Fong
Marc Bulger:
The New Orleans Saints selected Bulger in the 6th round with pick #168, but he was waived following training camp. The St. Louis Rams picked him up in 2001, and he became the starter the following season when Kurt Warner broke a finger on his throwing hand. Bulger would go on to be a two-time Pro Bowler, but almost as quickly as his star began to shine, it burned out and faded away. The main reason was probably because other star players for the Rams began to age, and once their talents diminished, he became less effective. In 2010, he was Joe Flacco's back-up with the Baltimore Ravens.
Photo by: Chris McGrath
Spergon Wynn:
The Cleveland Browns took Wynn in the 6th round with the 183rd pick. The original plan was for him to sit and learn under Tim Couch his rookie season. As fate would have it, Couch got injured, and Wynn was thrown to the wolves. The Browns lost 44-7 to the Baltimore Ravens in his first start. That was pretty much the beginning of the end. He was traded to the Minnesota Vikings the following season, and saw little action there before being released. He currently resides in Houston, and is an energy trader.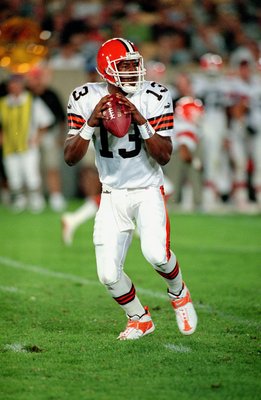 Photo from: bleacherreport.com
It's funny how things turn out sometimes. These six quarterbacks were deemed better than Tom Brady in the 2000 draft. Actually, so were one hundred ninety-two other players. In total, one hundred ninety-eight guys were thought to have better upside than he had. It goes to show that the NFL draft is as much of a guessing game as it is anything else.
Three-time Super Bowl winner. Two-time Super Bowl MVP. Two-time league MVP. Not too shabby for pick #199 huh?
Photo by: Jim Rogash
Ohh, and for all you real Brady fans, check this out as well:
http://www.thebleacherbriefings.com/2011/02/tell-friend-tom-brady-is-best.html
Even if you're a hater, take a look at it anyway. Maybe it will change your opinion of him. Of course, I'm biased though. But you already knew that, right?